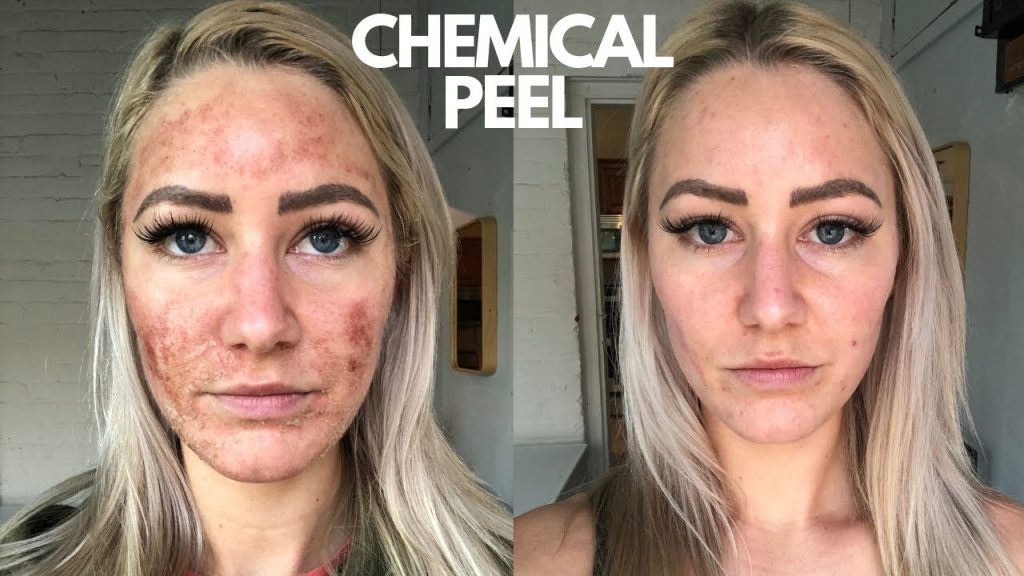 Everything you need to know.
Chemical peels involve applying an acid-based formula to the skin to keep it soft, smooth, and supple. Chemical peels can be used on most areas of the body, but the most common use is to improve the appearance of the skin on the face or on the backs of the hands. A chemical solution is applied to the surface of the skin to carefully remove the outer layers. The amount of skin removed will depend on the type of chemical used, the strength of the product and how long it is left on the skin.
How do chemical peel works?
We are able to treat a variety of skin complaints by applying a chemical solution which causes the skin to gently peel off, making way for new, healthy skin to shine through:
Dull, ageing skin
Sun damage
Acne and oily skin
Acne scars
Melasma and pigmentation
Fine lines and wrinkles
Sun/age spots and freckles
Uneven skin, enlarged pores and blackheads
Our team of experienced medical skin experts, led by our Consultant Dermatologist, will advise on which type of chemical peel would benefit you most, as well as how many peels you would require, which is dependent upon the condition you are being treated for.
Chemical peels can be classified as either superficial peels or medium depth peels depending on the chemical solution applied to the skin surface. They both remove the outer layers of the skin but do so to variable depths.
How Are Chemical Peels Performed?
Chemical peels are non-invasive, painless and indolent procedures. Their performance follows a similar stance to conventional peel treatments. However, they should take place with participation of a specialist doctor in a sterile clinical environment. Carbon peels enable the use of chemical solutions in 3 variants depending on the skin structure.
Light (Superficial) Chemical Peel: Generally uses "alphahydroxy" and "betahydroxy" groups of acids. The glycolic and lactic acids included in the chemical solution help the skin recompensate its moisture. The procedure is favoured especially in subtle and dry skins with newly forming wrinkles.
Medium Chemical Peel: A chemical peel performed with trichloroacetic acid (TCA) solutions. Broadly used to treat sun damage and acne scars, by preference. It penetrates deeper into the skin than superficial peels. Thus may deliver a slight feeling of burning in the course of its performance.
Deep Chemical Peel: A deep chemical peel employs "phenol". It delivers quite successful results in removing deeper wrinkles and spreading ageing scars. Full face treatment lasts longer than with other types of chemical peels. Therefore the burning sensation may be more intense. This may require putting the patient in anaesthetic state.
A typical chemical peel -with the exception of deep chemical peel- takes 10 to 15 minutes to complete. Deep chemical peel may cause redness, scabbing and swelling as it penetrates deeper into the sublayers of epidermis. Regular application of dressings and proper moisturising of the skin is crucial for a perfect state of health, following the procedure.
Who Can Receive Chemical Peel Treatment?
Anyone above 18 years of age with a desire to have a more vivid and radiant skin appearance may take chemical peels. However, the procedure may pose risks for certain groups of patients. Therefore, if you:
Have taken oral acne medication isotretinoin in the past 6 months
Have a personal or family history of ridged areas caused by an overgrowth of scar tissue (keloids)
Are pregnant or nursing
Have a highly allergic skin
Have recently undertaken radiotherapy and solarium treatment, then you should absolutely consult a doctor with knowledge of the skin and procedure, before consenting for a chemical peel.
After the Chemical Peeling Procedure:
After a chemical peel of any depth, your skin will be red, light, irritated or swollen due to the ablative nature of the procedure; hence protecting it will be very important.
Past the chemical peel, your skin will need frequent and abundant moisturising. Follow your doctor's directions for sun protection, cleansing, moisturising and applying protective ointments to your skin.
Use solar sealing creams with at least 30 factors, even if the time of procedure falls in winter.
Avoid picking, rubbing or scratching your skin and stay away from shaving (for male patients) or makeup (for female patients) on the day of the chemical peel.
Avoid having your hair removed via epilation for about a month following the peel.
CHEMICAL PEEL Before & After