CLATUU : The Updated Fat Freezing Technology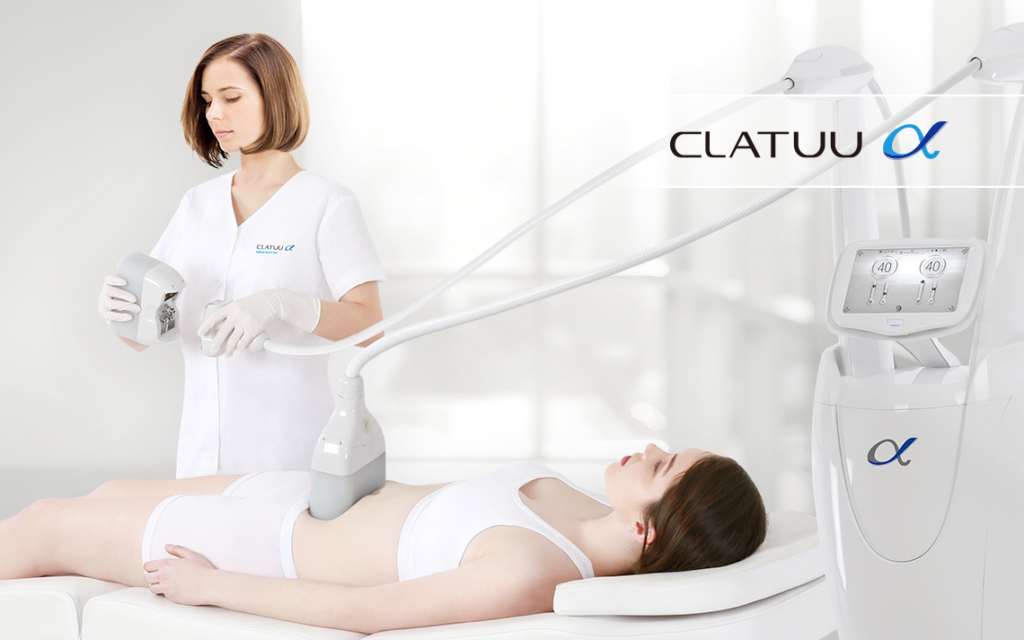 What is Fat Freezing?
A non-invasive treatment recommend for fat removal, The Clatuu Alpha is an improved version of the proven fat freezing technology in Singapore and uses a modified 360-degree surround cooling method for higher cooling conductivity.
Cold temperatures can reduce fat survival rates and is used to kill fat and reduce the thickness of fat layers. Using methods of controlled cooling on targeted areas or body areas can greatly aid body contouring abilities. The non-invasive and non-surgical nature of fat freezing also allows the treated areas to be less susceptible to adverse effects post-treatment.
How does Clatuu Fat Freezing Works?
The Clatuu Alpha is unique because it uses 360° surround cooling technology. This works as follows: a Clatuu Alpha treatment head, that is designed to fit the body, is placed on the skin using a protective gel pad. The skin and the underlying fatty layer are then sucked into the machine's treatment head. This ensures that all the fat cells in the area are easily reached. The 360° surround cooling means that each fat cell is then cooled evenly to -9°C. These fat cells are then crystallised by the cold. After the treatment, which lasts 40 minutes, the fat cells die and the body removes them using natural processes in the subsequent weeks.
Is Clatuu for you?
Cryolipolysis is most effective in people who have stubborn pockets of fat that are resistant to diet and exercise. It does not appear to be effective in people who have large amounts of fat to lose. So if you are within 15 kilos of your ideal weight and have fat pockets that can be grabbed, then fat freezing may well be the treatment for you.
At your initial complimentary consultation, our doctor will be able to advise if fat freezing is appropriate for you.
Areas that can be treated include:
Double Chin
Arms
Love Handles
Abdomen
Inner Thighs
Outer Thighs
Banana Rolls
Knees
Back Bra Strap
Is the Treatment Painful? Is there any Downtime?
The treatment is not painful though, in the first 5 minutes of the treatment, you may experience some mild discomfort involving deep tugging and pinching sensations due to the initial suction. Once each cooling cup has produced powerful cooling energy into your body, the area will feel numb. Your session will gradually become more comfortable where you can rest, read, or use your phone during that time.
Clients will be able to return to their daily activities right after the treatment. Potential side effects such as redness, slight swelling, tingling sensations, bruising, or aching could occur. This is common and will generally recede within 2-3 weeks. Clients may notice results within 3 weeks and it is recommended that they massage the treated area regularly for 5 minutes to ensure the drainage of the fat cells each day. 
How Many Sessions are Required? When can Results be Seen?
For visible results, 3 sessions are recommended and with the approval of your therapist, you may follow up with additional treatments, although one session may be enough for some. Results are most visible after the 3-month mark. 
The average circumferential reduction noted for abdomen fat is 4 to 5 cm per session and up to 2 inches after 4 sessions. For the thigh and arm area, the average circumferential reduction noted is up to 1 inch after 4 sessions. Please note that these are averages over our data set and individual results will vary.
What Is The Difference Between CLATUU 360° FREEZE And CoolSculpting?
CoolSculpting achieves great body sculpting results – but the results CLATUU can help you achieve are even better, as CLATUU 360° FREEZE uses the latest and most advanced cooling technology available today. In addition, CoolSculpting machines only have one handpiece, meaning only one area (i.e. only one of your inner thighs, as an example) can be treated during a 60-minute session. However, CLATUU 360° FREEZE has dual handpieces, so it can treat two areas at once, saving you both time and money. These handpieces are the world's first patented 360° applicators which provide more effective and faster fat reduction.
Book your free first consultation now
Would you like to know what you could achieve with a cryolipolysis treatment with the Clatuu Alpha? And how much it could cost? Then please come in for an initial consultation  during which we can provide personalised advice and draw up a treatment plan for you. Visit our clinic in Subang Jaya or Melaka.