Acne can cause narrow and depressed scars.
Consider TCA cross (Chemical reconstruction of skin scars) as the first stepping-stone in removing open pores and deep scars known as pitted scars, boxcars, ice-peaks, and linear scars.
TCA cross breaks down scar tissue and stimulates the skin to re-organize and remodel scar tissue to gradually improve
How is TCA Cross performed?
A highly concentrated trichloroacetic acid (TCA 80-90%) is applied at the bottom and edges of the scar with a small brush – this is felt like an insect bite.
The surrounding skin is left untreated. If necessary, treatment of several scars may be performed.
The treatment can be repeated when the skin has healed after 2 weeks. You should expect 2-6 treatments for optimal results.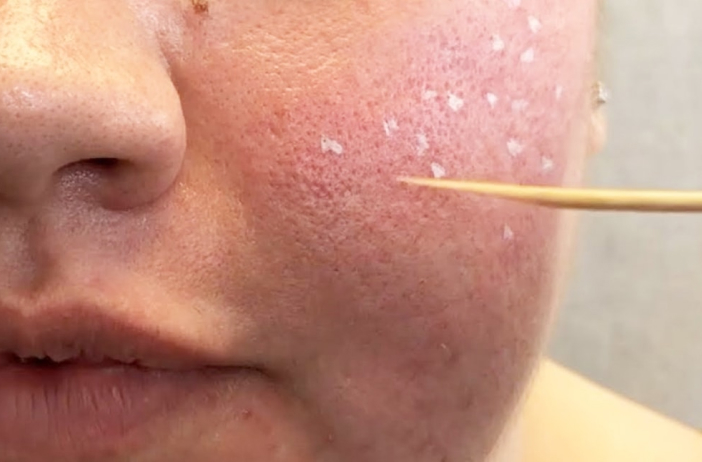 Can TCA cross be combined with other treatments for acne scars?
TCA cross is often combined with RF microneedling, fractional CO2 lasers, and surgical procedures like subcision and filling at the same treatment session.
TCA cross could be used for repeated sessions to raise deeper scars before laser treatments are finally used in the latter sessions for a final touch.
What are the realistic results of TCA cross?
The result will be seen as a gradual improvement with smoother skin and reduction of pits and scars.
The final result is seen approximately after one month. The effect is permanent.
Before & after TCA Cross treatment